Training is about helping people to learn so that they can do their jobs to the required performance standards.
However most failed because the training programs are not based on the staff or organisational and business critical performance needs.
Training should be based on systematic assessment of both current and future performance needs.
---
Every year, the CEO and the HR manager need to identify the staffs that needed to be trained to improve their competency that is critical in achieving the goals of the company.
The performance need analysis is initially conducted to arrive at a set of Critical performance gaps where the compentency gaps are drawn.
The diagnostic approach draws conclusions by examining performance data produced by the company's financial system.
We strongly hold the view that compentency gaps should be initially filtered by the critical performance gaps.
Training however should be based on systematic assessment of current gaps and future needs of the organisation.
It include a step by step procedure for conducting a cost effective, evidence based assessment from performance gaps to the identifying of non-performing job holders and profiling their competency for competency gaps.
It allows the management to identify and conduct training that matches the needs of the organisation.
Targeted Groups
HR Practitioners, Heads of departments and Trainers

Line managers

Instructional designers
Financial Diagnostic Approach
Performance diagnosis are based on the financial statements

Use the ROE chart for sequencing Top down appraoch

Thus opinion survey is avoided with this approach.

Comparative study conducted between company against industry leaders

Performance gaps are further diagnosed to arrive at root causes

One of people problems could be competency gaps

Based on the industry, best practices are drawn

Conduct duty and task analysis to arrive at specific competency
Course Objective
At the end of the program, the participants shall be able
To conduct performance need analysis of his/her company.

Based on the PNA, to prepare a recommendation of training needs, it's action plan and justification.
Course Methodology
Case study, performance based, and gap analysis

Assisted by prepared Excel templates and models

Identifying training or other solutions

Course Contents: 12 sequential steps
Performance gaps through industrial bench marks

Critical performance gaps identified (ROE Chart)

Problems and issues confirmed by performance charts

Solutions and changes identified through key result areas

Non-performers identified and other solutions applied

Competency Profiling on staff

Best Practices as the basis

Competency gaps identified and confirm with jobholders

Training Needs

Impact Study on ROE

TNA deliverables

ROI Training
How to measure performance gaps
Using same KPIs
Benchmarked against industry
Gap or variance analysis
Select critical gaps only
Output input ratios
Performance graphs
Dynamic ratios
How to conduct root cause analysis
Component ratio analysis
Key Result Areas
TNA approach by financial diagnosis
Gap analysis against industry using financial statements
Critical performance gaps to be checked in dept for root cause analysis
Solutions and change / best practices
Low competency due to lack of outcome.
Competency gaps identified through best practices
SOURCES OF INFORMATION
The financial statements of company and industry best company.
The ROE model of both the company and the benchmarked company.
Critiical performance gaps first before competency gaps
Non performers identified and profile for competency inadequacy.
Use best practices drawn from industry leader evaluate as competency gaps.
The financial diagnosis is the best TNA approach because of the following reasons:
The study is objective devoid of subjective factors such as opinion survey.
The approach is efficient because financial data is available on time and real time.
Financial KPIs are the common measure which facilitate comparative analysis.
The ROI training is easily calculated.
Note: Training needs are a subset of performance needs.
Our TNA offers the following benefits
True performance measured and identified
Defining effective models in the business
Able to measure the impact of change
Thus the ROI of training could be calculated
ROI training
Simulate training gains and benefits
alternative training costs
Arriffin's model on competency
Critical performance gaps
Performance solutions
Nonperformers identified
Non performers profile
competency gaps
Competency mapping
Integration with HR department
Competench Framework
Competency identification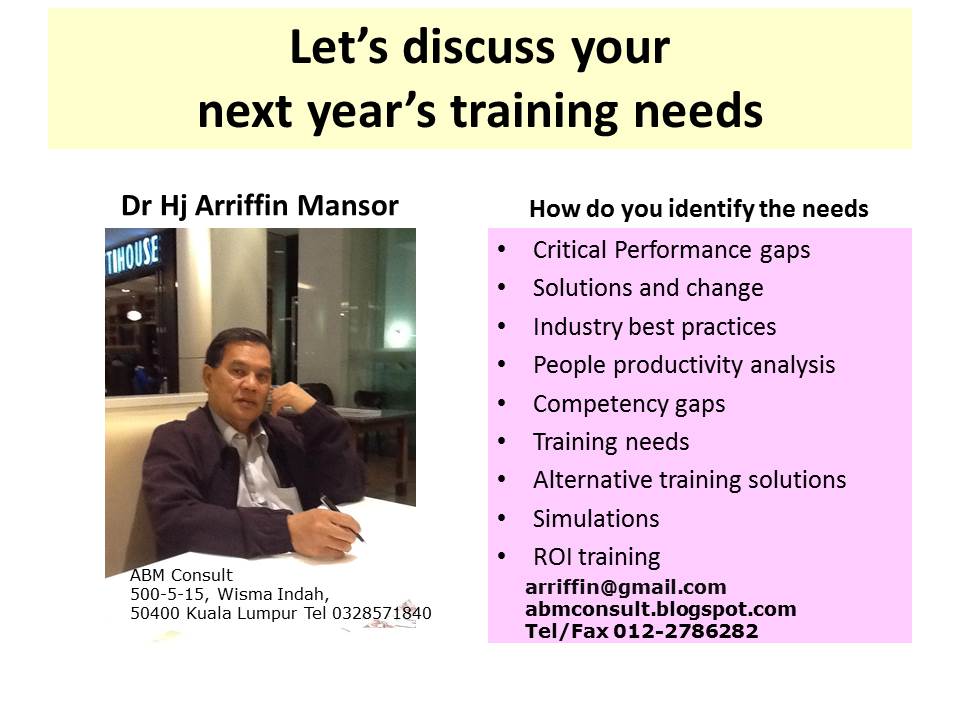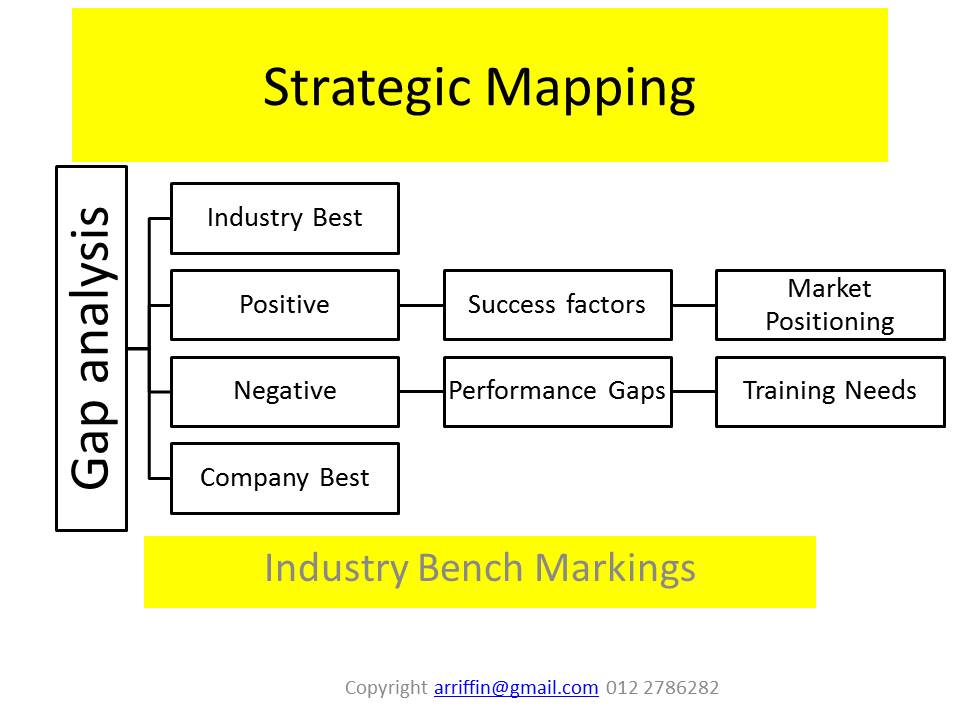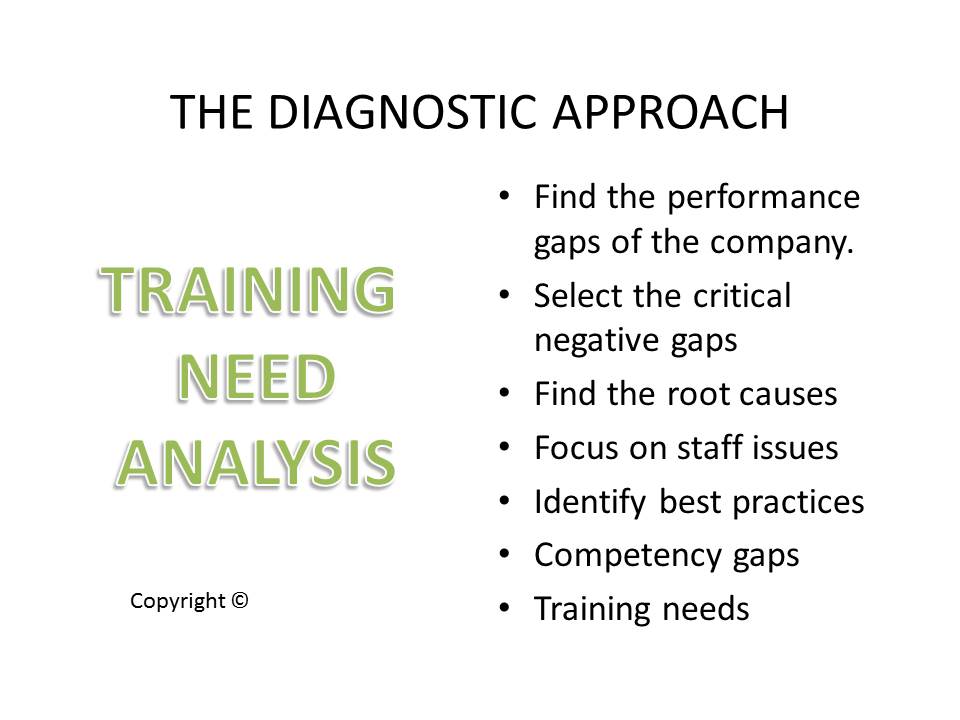 TNA deliverables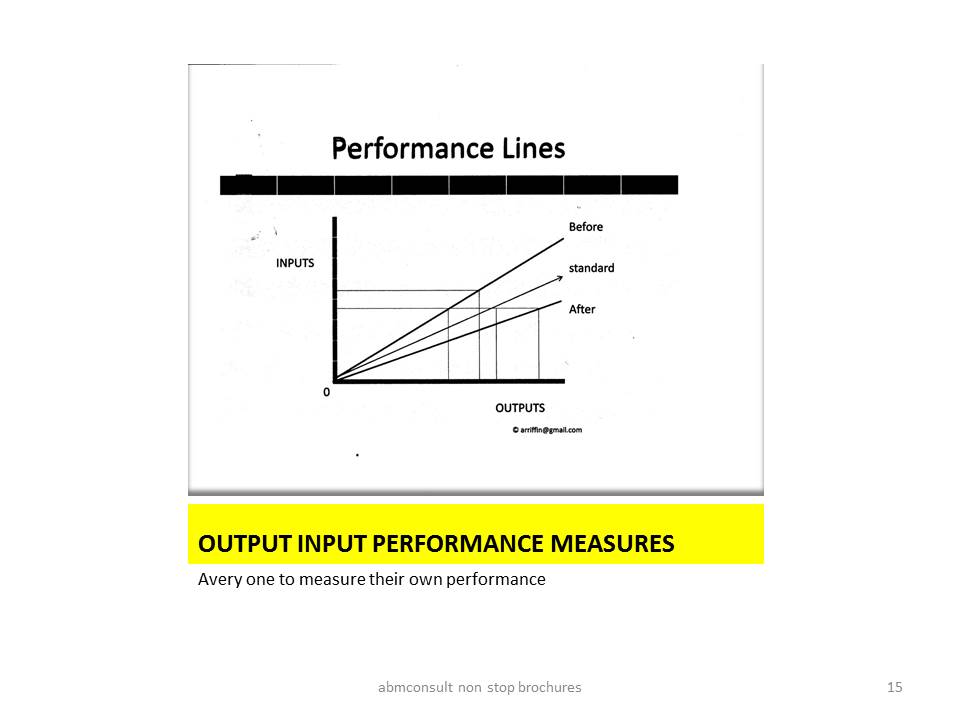 At the end of the workshop, you would be able to:
Aligning learning priorities to business goals, strategies and focus.
Conduct performance gap analysis which lead to competency gaps
Identify the non-performers and the level they were in.
To find business needs
To find competency gaps of the non-performers